Last Updated on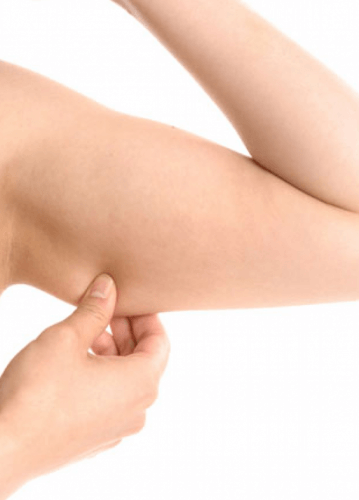 Lift your arms above your head? Do you have noticeable sagging? Age or weight loss can cause the skin to relax in the upper arms and result in a sagging appearance.
Arm lift surgery in Mexico is doing wonders for men and women with predominately excess skin, not fat or tissue, around the upper arms.
What is An Arm Lift?
An arm lift in Mexico is a surgical procedure that reshapes the under portion of the upper arm, from the underarm region to the elbow. The procedure is performed to reduce excess sagging skin that droops downward, tighten and smooth the underlying supportive tissue that outlines the shape of the upper arm and lessen localized pockets of fat in the upper arm region.
Arm lift surgery will deliver you a new, shapely and toned upper arm which will help to dramatically improve both your appearance and impression.
What to Expect During Your Consultation
During your arm lift consultation by a high-quality plastic surgeon, it will be decided if surgery is necessary and if so, what type of treatment is required. Your evaluation may include computer imaging or diagnostic x-rays and you will be given comprehensive information to enable you to make an educated decision. This is a time to ask questions and build a trusting relationship.
Select Plastic Surgeons in Mexico are available to guide you through the procedure techniques, risks and recovery options. Your evaluation may include a medical assessment based on your age, skin type, skin laxity, degree of sagging, and your desired cosmetic goals will be discoursed to give you the best results.
Good Candidates for Arm Lift Surgery
Good candidates for arm lift surgery in Mexico are men and women who have taken action with exercise to strengthen and improve the underlying muscle tone of the upper arm, but cannot get rid of excess skin that has lost elasticity or underlying weakened tissues and localized fat deposits.
If the undersides of your upper arms are sagging due to excess skin and fat, an arm lift in Mexico is the right choice for you.
Arm Lift Risks and Safety Information
The decision to have arm lift surgery is exceptionally personal and it is imperative for you to weight the benefits against the potential risks before surgery.
Risks include unfavorable scarring, bleeding, infection, fluid accumulation, skin loss, blood clots, fat necrosis, deep vein thrombosis, major wound separation, and asymmetry, number in skin sensation, anesthesia risks, pain and possible revision surgery.
Arm Lift Procedural Steps
Medications are administered for your comfort during the surgical procedures.
During arm lift surgery in Mexico, an incision is made in the armpit region. From the incision, your dedicated plastic surgeon will work to remove skin and fat from the upper arm. Often liposuction is a useful adjunct to the direct removal of skin and fat.
Incision length and pattern depend on the amount and location of excess skin to be removed, as well as the best conclusion of your plastic surgeon.
Incisions are generally placed on the inside of the arm or on the back of the arm, depending on the surgeons preference, and may extend from the underarm (axilla) to just above the elbow.
Your incisions will be closed with absorbable sutures. The smoother, tighter contours that result from arm lift are apparent immediately following your procedure.
Arm Lift Recovery
Following arm lift surgery in Mexico, dressings or bandages are applied to your incisions, and your arms may be wrapped in an elastic bandage or a compression garment to minimize swelling.
A small, thin tube may be temporarily placed under the skin to drain any excess blood or fluid that may collect.
Recovery from arm lift surgery typically takes seven to ten days, with full return to activities in four to six weeks.
If you are interested in learning more about arm lift surgery in Mexico, please contact our arm lift Mexico clinics.
Get a FREE quote for Arm Lift
Once you click the button you will receive your quote in your email within a few minutes and we will never spam you.